Basic Info
Model NO.: JMET-65

Power: 3kw

Air Volume: 1200 m3/h

Pressure: 140mbar


Trademark:JMET

HS Code: 8414519900

Material: Aluminum

Certification: RoHS, CE,CCC,TUV

Voltage: 380V

Frequency: 600Hz

Speed: 19000RPM

MOQ: 1PCS

Transport Package: Woodern case

Origin: China (Mainland)

Usage: Support air in Air knife drying line

Type: centrifugal blowers
JIEMING centrifugal blowers Technical Parameter
Power:
3.0KW~22KW
Air Flow:
450-2800m3/h
Pressure:
380mbar(38.0KPa)
Vacuum:
350mbar(35.0KPa)
Weight:
42~56Kg
Ambient Temperature:
-12℃-40℃
Inlet Temperature:
<150℃
Design Form
Single Pump
Because of these energy savings, the return on investment (ROI) for a high speed air blower is often times about one year.
Dimension: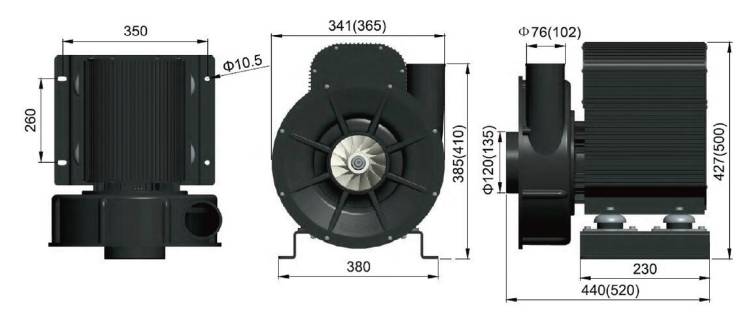 Features:
★ Higher Efficiency (Up to 85%)
Under the same energy consumption and pressure, the air flow of the high speed air blower
is 30% more than another high-speed centrifugal blower.

★ Lower Energy Consumption, and power save, energy saving
The pressure flow generated by the AT -350 22KW can replace the a AT-300 30KW high speed
air blower, which means that the customer can save about 70,000 degrees per year on the basis of the
original energy saving
★ Longer Service Life
Drive directly by a high-speed motor inverter with Ceramic Ball Bearing inside the motor,
the working life reaches 5 years!
★ Wider Applicability
★ High speed and high effecient (The max frequency reaches 700Hz, Max speed reaches 21000RPM)
★ high speed air blower with an inset frequency inventer, make a good control for the air blower

★ Small size, easy to carry and transport and installation, save space
If you are interested in our high speed air blower, welcome to buy the quality and energy saving equipment with our professional manufacturers and suppliers in China. Our factory also accepts the customized orders.